Online book advertising just got a boost with Amazon's "Run an ad campaign." This is an enhancement to the KDP Select's book promotion tools: "Kindle Countdown Deal" and "Free Book Promotion." Yes, it is another benefit for KDP Select authors and only available to KDP Select members.
As you may or may not know, in the past Amazon did not allow advertising of a book on Amazon that went directly to a book page on Amazon. You would have to advertise using AdWords and drive traffic from the ad to your own book landing page (see "The Secret to Advertising on Amazon"). Now you can advertise your book and drive traffic direct to your Amazon book page.
What's really cool is that you can target specific books where you want to have your ads show. How would you like your book to show on the Divergent or Hunger Games Amazon book page?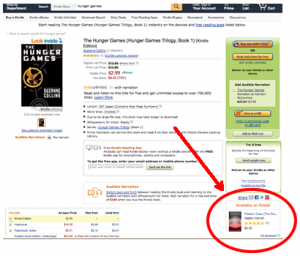 You can target where you want your book's ad to show by either selecting specific products (books) or by selecting shopper interest. The minimum ad spend is $100 and it is pay-per-click advertising. You only pay when someone clicks on your ad, not how many times it is shown.
Stay tuned! Next week I will have a video podcast showing you how I set up an Amazon book advertising campaign in KDP Select.
By J.P. Thompson